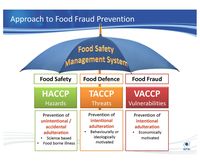 TACCP, What is it?
TACCP is a method, partly similar in tools and techniques to those used with HACCP
(Hazard Analysis and Critical Control Points), that assesses hazards and risks to the business, process or product from attack for malicious purposes, fraud, or gain for individuals or groups at the expense of the targeted organisation. The threat or attack may come from either internal or external sources.

Some of the aspects of TACCP that are different to HACCP form an integral part in the additional validation work that will be necessary to prove that the systems and protocols put in place are capable of defending the organisation.

The potential hazards may detail not only chemical, physical and biological hazards as with a conventional HACCP study, but also might cover the elements of radiological hazards and of adulteration and/or sabotage. Sabotage particularly is difficult to assess and evaluate, therefore making it harder to control and validate. What can be validated, however, are the control mechanisms in place, and the fact that all potential points of attack are dealt with in the study.